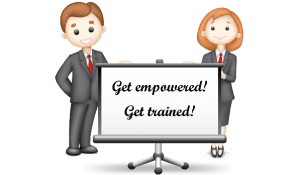 Business Leaders obviously are master communicators. This undoubtedly is a known fact for hundreds of years. As leaders, business executives must master the art of effective & persuasive presentation skills. With this art they will be able to persuade, convince and procure more business deals and achieve better results whether during business meetings, business presentations or even any other speaking engagements.
Speaking to one is definitely relatively easier than presenting to 10 or a 100. There is definitely a marked difference between presenting on the chair and presenting on your feet. A survey revealed that the fear of public speaking is ranked highest in a list of the most common fears. Nevertheless, managers and all sales professionals must move into the paradigm of presentation in order to reach out to more people whether in developing business or even better lead people.
Learn to speak and grow rich with enthusiasm, confidence and achieve better results!
How Will You Benefit :
At the end of this training session, participants will be able to:
• Handle and use their nervous energy
• Organize their presentation information
• Structure the presentation into an introduction body and close
• Project the voice for meaning, emphasis and impact
• Use hand gestures and facial expressions effectively
• Make eye contact with the audience
• Enhance their ability to present with professional impact and win over the crowd
Key Contents :
1. Getting prepared and organized
2. Methods to build Confidence and Calmness before a Presentation
3. Building rapport with the audience before, during and after your presentation
4. Establishing professional credibility
5. Improve your memory and deliver a smooth presentation
6. Handle difficult participants and situations
7. The Do's and Don'ts of visual aids and other presentation tools
8. Handle objections and all types of questions, and even use questions to your advantage
9. Instill humor to win the audience and strengthen your presentation
10. Structure your presentation with an exciting opening and a memorable and convincing close
11. Use your energy effectively and powerfully
12. Project voice for meaning, emphasis and impact
13. Using positive gestures and winning facial expressions
14. Present with congruence – more convincing
15. The art of applying linguistic skills to add more impact to your sales & business presentation
16. Realize and eradicate all your bad habits that may reveal the negatives
17. Making audience cohesively support your ideas and your views
18. Realize and appreciate the joy of having to present to groups and get more sales
Our Present with impact course focuses in the following areas:
-Understanding learning styles
-Understanding the training process
-Assessing training needs
-Design and development of the training program
-Presentation Skills Training
-Giving and receiving feedback
What is covered in this Present With Quantum Facilitator Training course?
 Theory of training & adult learning:
Learn the various concepts of training and education.
Know the academic framework for training practice.
Becoming aware of the principles and tactics of adult learning.
Discover different learning styles and learning outcomes.
The role of the trainer:

A useful guide to good training practice.
Learn different training styles and how to handle conflict resolution.
How to deal with challenging attitudes and behaviours.
Discovering and developing your own needs as a trainer.
A breakdown of training needs & programme design:

Guidelines on how to identify and analyse training requirements.
Learn how to construct a training programme.
Key tips on how to identify set out the goals for each training programme.
Learn how to sufficiently conform to certification bodies.
Preparing for training delivery:

In depth guidelines into the planning process.
Learn how to create interesting and relevant exercises.
Tips on preparation of training tools, visual aids etc.
Delivery & assessment:

How to establish, promote and maintain a positive learning environment.
Learn diverse training strategies to build a varied and appealing programme.
Evaluation of training:

Tips on an effective evaluation process.
How to evaluate learner progress against the programmes overall goals.
Gathering input from learners; tips on how to get them involved.
Preparing for the Training
– Establishing Confidence
– Setting the Tone
– Facilitating Discussion: Leading vs. Directing
– Facilitating Discussion: Stimulating Dialogue
– Facilitating Discussion: Active Listening
– Facilitating Discussion: Difficult Situations
 Two Days Workshop
Gain a practical, how-to overview of the entire training function. Through modeling of the best practices and latest techniques in training delivery. New trainers will gain a strong foundation in critical training skills and seasoned trainers will be introduced to new approaches for delivering powerful training.
Why You Should Attend:
Learn the basics of presentation and accelerate instructional design methodology.
Gain a foundation and advance technique and evaluating the impact of your training presentation.
Learn effective training techniques for engaging a variety of learning styles, and creating an effective presentation challenges.
Develop how engaging in training and solutions.
What to Expect:
Pre-Work: Complete a self-assessment and you will learn the technique of "Do's and Don'ts for the New Trainer."
Homework: You may find it necessary to do some preparation for your skills practice once you completed the training.
Supplemental Resources: This program includes tools and templates to help you apply what you learned and completion of certification.
Who Should Attend :
• Sales & Marketing Managers, Executives & Engineers
• HR / Training Managers, Executives, and any personnel who has the intention to present to groups of people
Methodology :
Lecture, Motivation, Coaching, Role play, Video presentation on the Dos and Don'ts of Presenting